About Us: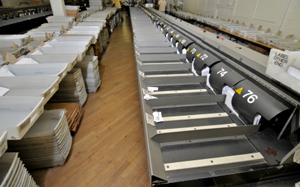 Founded in October 2001, ALL STAR MAILING SERVICES, INC began as a small, humble direct mail business out of a two car garage. Over the past several years, ALL STAR MAILING SERVICES, INC has become one of the fastest growing, full service, direct mail companies in the country.
Today we operate out of a 3500 square foot facility, located in Tempe, Arizona, that boasts some of the best technology in the printing and mailing industry. We have set ourselves apart from our competitors, and built long lasting relationships with our customers, by offering honest, fast, reliable services.
We understand the demands required in putting together a direct marketing campaign. We offer a "one-stop shop." Our direct mail consultants have several years of experience in printing, design and list selection. We can put it all together for you.
We invite you to join our hundreds of satisfied, nationwide customers and fill out our simple quote request form today. A printing/mailing specialist will contact you within 24 hours to discuss your unique situation.